Welcoming your team back to work after the coronavirus lockdown?  Consider these essential upgrades that help limit touch points and reduce the spread of germs.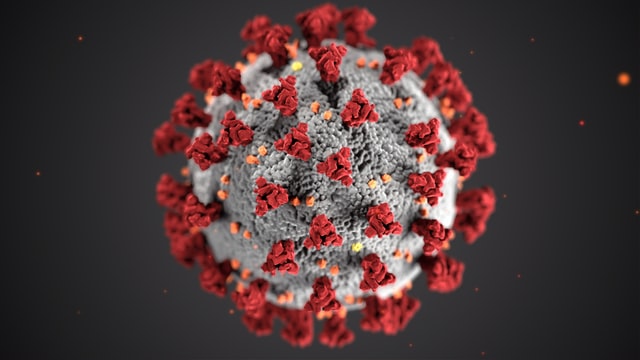 Wave Sensors for Automatic Doors
Automatic doors give a big boost to the accessibility of your space.  But standard push button actuators are a common touch point and can present an issue when it comes to germ control.
Touchless wave sensors are a great solution.  Rather than press a button, users simply wave a hand past the sensor to open the doors.  The sensors are the same size as traditional push buttons, making for a quick and easy retrofit solution.
The sensor's range can be adjusted so you can determine how close a user has to be before the switch is activated. And since they're not being touched, wave sensors don't need to be cleaned as frequently as push buttons.
Adding an operator with a wave sensor is a great way to completley elimiate the need to touch an opening.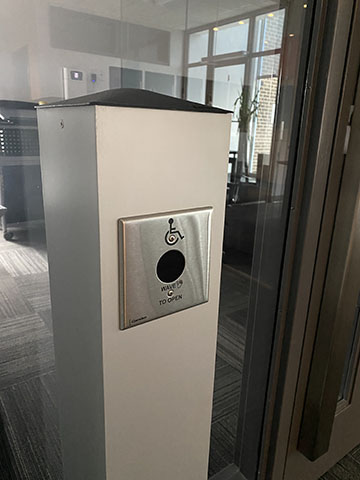 Pillar-style Push Buttons for Automatic Doors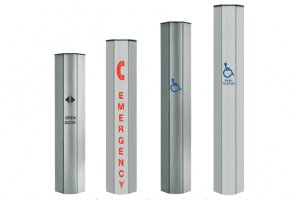 If wave sensors aren't your thing, consider a pillar-style push button, like the Ingress'r from Wikk Industries. 
We like the 36" (914mm) version, which is easy to activate with a foot, knee or hip.  They're also great for people with low or no mobility in their arms who might have issues with a wave sensor, as the button can be depressed with a bump from a wheelchair.
Some touch points can't be avoided, like the push pads on exit devices.  This is where an anti-microbial finish like BioCote® (available on Salto locks) or ASSA ABLOY's MicroShield® can help.
These silver ion-based coatings lasts the lifetime of the finish and supresses the growth of bacteria, algae, fungus, mold and mildew.  BioCote® was even tested against a strain of virus and was shown to be effective (read more here).
Touchless Washroom Accessories
Touchless accessories are pretty common in washrooms, from faucets and soap dispensers to hand dryers and paper towel dispensers. If your users are washing their hands – and we sure hope they are – help them stay clean!
While Trillium is known a leader in the doors and hardware, we also supply and install a wide range of washroom accessories.  This includes the popular Dyson hand dryers and a full range of accessories from Bobrick, ASI/Watrous and others.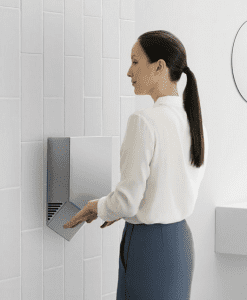 If you're taking a second look at your facility and working to reduce infection risks, these products can help.  Trillium can provide expert advice and help get you started.