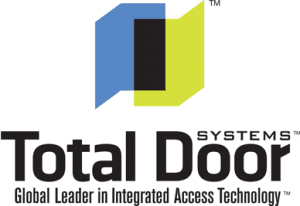 Total Door Systems' unique approach to cross-corridor openings combines concealed design elements with top level security and safety features.
The result is a long lasting, code compliant hold open option that blends into its surroundings.
Total Doors are designed to be magnetically held open in a pocket, creating a flush appearance with the surrounding partitions.  With a full-length interlocking hinge, concealed closer and flush exit device, they blend into the background and remain out of the way in high traffic areas.  When a fire alarm is activated the doors, preventing the spread of smoke and fire. 
Furthermore, Total Doors can be covered with nearly any design finish, veneer or architectural metal, they can be designed to blend into their surroundings or stand out from the crowd.
With many successful installations completed, Trillium is the regional Total Door expert.  Learn more about applications for Total Doors by contacting Trillium Architectural.