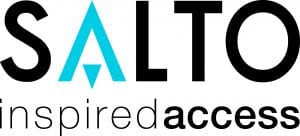 Electronic card access offers several advantages over traditional key systems, and Salto locks are one of the most complete offerings in the market.
With hardwired and wireless locking options, as well as their unique Salto Virtual Network (SVN) system, card access is within reach for more facilities than ever before.  The solution has been widely adopted in hotels, dormitories, multi-family residential buildings and retirement communities. 
In addition to locksets, Salto also offers electronic wall readers, padlocks, cylinders and exit device controls. Their credentials include cards, fobs, waterproof bracelets and RFID stickers, as well as a Bluetooth option that integrates with a users' mobile phone. 
The user-friendly software will have you running your access control system like a pro in no time.
Trillium has a team of certified, factory authorized Salto installers and system designers on staff, and a host of successful installations under our belt.  Let us show you how partnering with Trillium and Salto can bring your card access dreams to life.
Read about Hotel X, where Trillium installed a complete Salto system on doors an elevators.
Want to learn more about Access Control?  Read this article about keyless locks.
For pricing and information on Salto locksets, contact our Estimating Department.